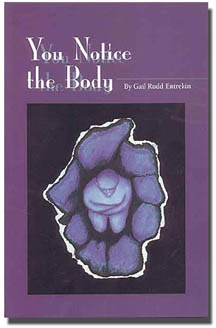 by Gail Rudd Entrekin
New California Voices Series, Book 1
ISBN #0-917658-29-0
Available for $11.95 from your local bookstore or
www.amazon.com
---
Book Reviews
GAIL RUDD ENTREKIN's poetry is at once earthy and sensitive and unafraid. It explores the landscapes of the body with care, passion, and a frank, surprised delight.
Chitra Divakaruni, author of Sister of my Heart
"The body dies, the body's beauty lives," says Wallace Stevens. No, not really. Rather, we should say: The body dies. The body hurts, fears, loves, needs, grows and toughens, is glorious, touches other bodies, feels ecstasy, fades. In Gail Rudd Entrekin's beautiful poems, the body also speaks, reaching out and saying these things about itself, and about each of our own bodies, with utmost empathy. These are poems of poignance and sorrow and strength, "words honest as glass/a joy in the light of my bones."
Alicia Ostriker, author of The Crack in Everything
Gail Entrekin's poetry carries us, by her close attention to her world, deeper into our own separate worlds and deeper into an invisible world we all share and depend on. At the threshold of each of these poems the reader should be prepared for emotion; through sheer honesty, each brings us to a bedrock experience perhaps forgotten in all its force and specificity. The love in marriage, the love of children, and the grief attendant on love, all rise to the eye with a fresh focus, fresh delight or sorrow or gratitude.
Louis B. Jones, author of California's Over
---
Poems
In Hospital
They take away your clothes
roll your electro-magnetic field down
and off you like a giant sock,
put it all in a shopping bag
with your name on it,
suit you up
in institutional completely homogeneous electrons
making you emotionally unrecognizable,
begin.
They insert metal and plastic objects
into your body
causing you pain,
loss of
fluids.
They make you drunk, unconscious,
shave off your fur while you sleep
leave you pink and foolish
as any naked animal.
They clean out all your body's openings
and spray them with disinfectant
so your human smells disappear
in a mint mist
and no one can tell you're here
except for that one primitive odor
that rises and lingers again and again:
fear.
They cut neatly into your flesh
pour over your contents with tiny lights,
move things around
adding or subtracting from you here and there
until they have solved the problem
and feel well-satisfied,
a good thing, of course,
and they send you home
where no one else knows
you have been lost.
It will take weeks
for you and someone who loves you
to comfort your body
back into its own heat
its own rich smells,
to accept what you cannot forget
or remember.
---
The Relay
For my mother, for my daughter

A good start was crucial. I waited
until I caught the runner in my
peripheral vision, heard her feet beating
the ground behind me at the precise
distance; began to uncurl and rise.
I felt clumsy at first, disoriented,
kept my hand back, open flat,
fingers aligned, so I wouldn't bobble
the baton. She moved up behind.
I tuned every muscle to understand
her motion, her speed, her grip,
her experienced pass.
I fell in with her body's intent,
kept my own stride.
I gather speed, the baton slaps
into my palm like scalpel to surgeon,
and we are perfectly synchronized
for one breath. Now she is dropping
behind, slowly turning away, and I
focus forward, ignore her passing
so she won't interfere with my rhythm,
pump my arms and legs,
begin to ache but I press on
past burning hot breathing, push
through to the moment when body is
flowing outside conscious direction
when it works perfectly: heart, lungs,
all rhythms informed by some sort of
Grace.
I move into the patch of sun
before the very center of the stands where
all the invisible gods and mayors leap
to their feet and the cheering's a distant
roar in the heat at the back of my mind and just
as I almost break into flight.
I spot the small
runner waiting ahead crouched in the distant
shaded curve of track. I notice I'm clenching
the smooth wood, feel the ache in my hand,
the slippery sweat running and I
loosen my grip, begin to consider the style
and capacity of the runner uncurling
now in the distance, measure her awkward rise,
her small cold legs, see her glance
back and then begin to move forward
swiftly, increasing as I pound toward her
trying to match my stride. I think, No!
Run it your own way. I'll throw you off.
She feels my thought, lengthens out into
her own pace as I cross the baton
into my right hand without breaking
stride, move with her, feel her desire,
extend, clap it firmly into her
flattened palm, will it to be taken cleanly,
feel it taken, stay with her three paces,
pray, Be fast. Look forward. Go!
I slacken, run it out so the muscles
don't cramp as I slow, veer off,
come to a stop in the shade, the wind
blowing across my wet skin as I
watch her disappear.